Digital Projects:
"Fairy Tales of 19th-Century Britain"
An open-access research guide.
"Guide to the Research Process"
A simple infographic designed for teaching research to Middle and High School students.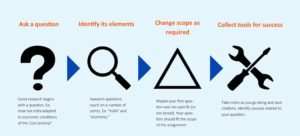 Papers:
Hoenzsch, Karl (2018) ""A Great Machine": George MacDonald and Popular Science," North Wind: A Journal of George MacDonald Studies: Vol. 37 , Article 1.
Hoenzsch, Karl, "Refiguring George MacDonald: Science and the Realist Novel" (2015). Seton Hall University Dissertations and Theses (ETDs). 2071.
Presentations:
Workshop (2018): "Digital Literacy: Fake News, Data Privacy, and Social Media in the Classroom" (PowerPoint)